How to attach an executable file (EXE) in Gmail
If you try attaching an executable file (such as an EXE, COM, SCR, MSI file, and so on) in Gmail, an error message is displayed as shown below and the file fails to be attached.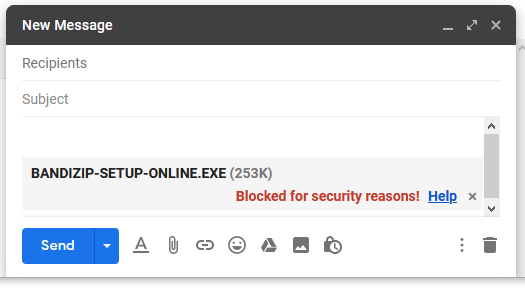 Use Google Drive
This is a way recommended by Google, and also the quickest and simplest way to attach the file not allowed in Gmail. Uploade your file to Google Drive, then copy a link to the file and paste it in an email.
Double-compress your file
If you really want to attach the file in Gmail directly, you should use a little complicated way.
With Bandizip, compress the file as a 7Z archive and set a password for the archive. An encrypted 7Z archive allows no one to access any info about the files contained in the archive unless the correct password is provided.
Compress the 7Z archive as a ZIP archive over again.
This double-compressed ZIP archive can be attached in Gmail.